---
This is the first globally released commercial product of the JADE series. i-JADE Basic is an emulator for Java applications conforming to NTT DoCoMo's "i-appli" UI and a tool for creating their ADF & HTML distribution files. It is a compact and powerful aid in the development of "i-appli"s.
i-JADE Basic allows applications to be developed without an i-mode handset or even access to the i-mode network. As well as accurately reproducing each handset's characteristics and behavior, full support of i-mode specific emoji (pictographs) is also included. The ADF file creation tool and templates for HTML, allows development on the distribution end of the i-appli development cycle allowing quick and easy creation of high-quality applications ready for deployment.
A powerful tool for mobile application developers, i-JADE Basic provides i-mode™ Java classes, HTML file templates and i-mode™ 504i handset-specific emulators. i-JADE integrates with a range of IDEs and provides valuable tools for i-mode™ Java application development.
Even first-time developers of i-mode™ Java applications will find it easy to develop for i-mode™.
* Developers use their familiar, favorite IDE to create i-mode™ Java applications.
* Developers use their acquired experience and knowledge of Java development. productivity is increased through facilitated development.
i-JADE Basic integrates with world-renowned Java development environments (IDE) such as JBuilder (Borland), Sun ONE Studio(Sun) and Interstage Apworks(Fujitsu).
Enhanced APIs includes:

* Support for the latest Doja2 environment
Advanced features:

* Project-level development control
* ADF file generation
Multiple emulation features:

* Standby mode emulation
* Browser launch mode emulation
* Mail laucn mode emulation
* Obex Infrared API emulation & debugging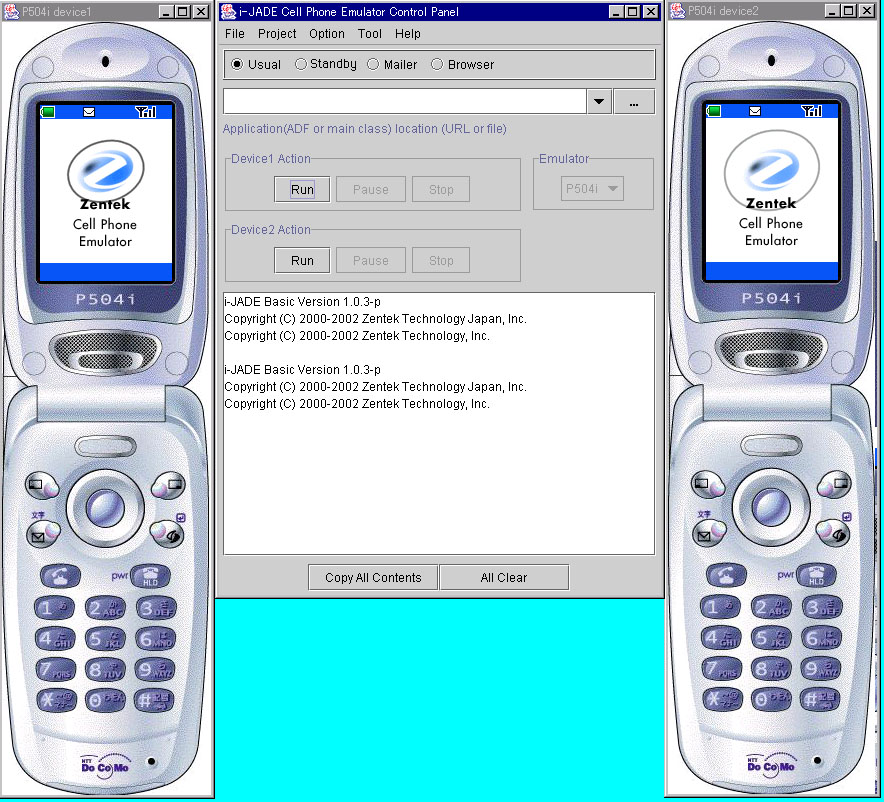 i-JADE(R) Copyright (c) 2002 Zentek Technology Japan, Inc. All rights reserved. All Zentek brand and product names are trademarks or registered trademarks of
Zentek Technology Japan, Inc. in the United States and other countries.
i-mode™ and i-appli are trademarks or registered trademarks of NTT DoCoMo, Inc. in Japan and other countries.

All other marks are the property of their respective owners.